What are Mold Remediation Standards and Why are They Important for Salem Local Businesses?
10/25/2020 (Permalink)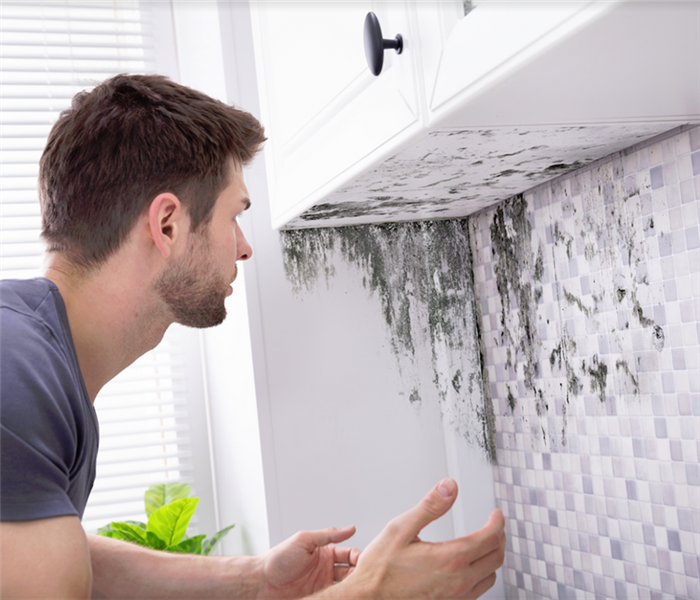 Don't panic when noticing a mold infestation in your home or business. Contact our IICRC certified team for mold remediation services.
Salem Companies Need Knowledgeable Mold Remediation Companies
Entrepreneurs in the Salem area know the importance of standards and guidelines. From quality control guidelines to the employees' handbook, standards help your business run in a consistent way and build trust with your customers.
If you need mold remediation in your Salem business premises, you want to know the company you call has established standards and best practices. You would not entrust someone with your business if you were not confident in their knowledge and procedures.
What is the IICRC and why does it matter?
IICRC stands for the Institute of Inspection, Cleaning and Restoration Certification. The IICRC is a non-profit organization for the restoration industry (including fire, flood, and mold remediation.) It was founded in 1972 and is now an international organization with over 6000 certified firms worldwide.

The IICRC aims to establish global standards for the remediation. What does that mean for your business? It means that IICRC-trained staff understands the theory and practice of remediation, and they are up to date on best practices and the most effective techniques.
How does SERVPRO train its staff?
We use IICRC standards to train our staff, and we offer:
15-day hands-on training at our training facility for operators
Self-paced certification programs for all staff
Ongoing training and e-learning to keep our team up to date

We know that investing in our SERVPRO of Salem / Peabody / Marblehead team is the best way to serve the local business community.

What do the IICRC standards for mold include?
The IICRC standards for mold cover every aspect of mold remediation, including:

Being aware of health and safety for your staff and our workers
Documenting the condition of the building and our process as we proceed
Controlling contamination at the source to prevent spores from spreading further
Removing mold contamination
Dealing with the moisture problem – moisture is present wherever there is mold, and fixing the moisture issue is vital
In practice, these standards add up to a thorough mold remediation process in Salem that leaves your business Certified: SERVPRO cleaned.
What health and safety precautions do we take?
We equip our teams with personal protective equipment that includes gloves, coveralls, eye protection, and respirators. We assess your facility for any health and safety hazards before we begin work. In more severe cases, mold can rot wood or damage drywall, so we make sure the area is safe to work in before we start.
We talk to you about health and safety issues and offer directions to ensure you and your staff stay safe throughout the process.
How do we document the conditions?
Monitoring conditions in the affected area is essential. We can see the mold mycelium (the collection of cells), but we cannot see how deep moisture goes inside walls or under carpets and floorboards. We monitor conditions using:
Moisture meters and probes to measure moisture levels in a range of materials
Thermal imaging to monitor the movement of water through building materials
Thermo-hygrometers to measure humidity

Proper monitoring means we can compare conditions at the start and end of the remediation process, and we can monitor moisture levels while remediation is in progress. Documenting means there is no guess-work involved: We always know the exact conditions in your business premises and can adjust our process if needed to get the best results.
How do we control contamination at the source?
It is effortless for mold spores to become airborne and spread through your business. SERVPRO takes steps to prevent spores from escaping:
Setting up negative air machines so that air cannot flow from the contaminated area to uncontaminated areas
Shutting off HVAC systems and covering doors, windows, and vents to cut off escape routes
Building a containment chamber around the affected area
What do we do to remove mold contamination?
Although it is impossible to capture every last microscopic spore, the more visible contamination we can remove, the less chance of it coming back. We use HEPA vacuums to hoover up mold, and we can also use dry scrubbing, soda blasting, and wet wiping with antimicrobial agents to deal with fungal growth.

SERVPRO can remove mold from carpets, drapes, blinds, walls, wooden surfaces, furniture, and more. Our technicians will also dispose carefully of any mold-invested materials that cannot be cleaned.
How do we deal with the moisture problem?
The IICRC standards state that the best cleaning methods cannot prevent mold returning if moisture is still present. We handle the moisture problem using a combination of air movers, fans, and dehumidifiers to evaporate water and reduce humidity. We can also bring in portable heaters if needed. You can count on our AMRT applied microbial remediation technicians to service your building following best practices.

For knowledgeable mold remediation you can trust, call SERVPRO of Salem / Peabody / Marblehead at (978) 744-4545.