History and Culture Awaits You In Salem
12/17/2020 (Permalink)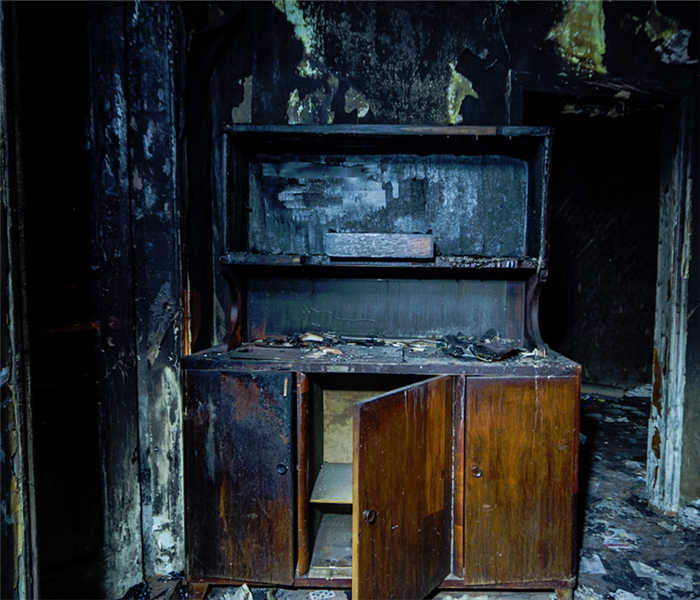 Don't let fire damage keep you out of your home for long. Contact SERVPRO immediately for effective remediation services.
The Famous Witchy Town Offers Enchantment To Visitors
Salem is synonymous with witchcraft and magic. It is impossible to hear the name without thinking of the witch trials, and even today, Salem is a popular setting for spooky movies and shows. Scenes from Sabrina the Teenage Witch, Hocus Pocus, and Bewitched were filmed here, along with Bride Wars, Lords of Salem, and American Hustle. The town also has a namesake in Sabrina the Teenage Witch, who named her cat Salem.

In 1626, a settler named Roger Conant arrived from Cape Ann and chose to settle and start a town. The town's name, Salem, is a reference to Shalem, a word which is officially identified with Jerusalem. The town was given this name in honor of the peaceful transfer of power when John Endecott took over from Conant as the town leader.

Salem is well known for its witch trials, but it is famous for other reasons too:

Salem seafarers were bold and adventurous, and Salem established successful trade routes to Asia and India.
Salem is officially designated as the birthplace of The National Guard. Every year, members of the Second Corps of Cadets gather to lay a wreath, sound bugles and fire a 21-gun salute.
Elias Hasket Derby hailed from Salem – he is widely considered to be American's first millionaire.
In 2011, Salem set the record for the highest price ever paid for a piece of Federal furniture, when a private collector paid a staggering $662,500 for a carved mahogany side chair.
Witch Related Tourism Gives A Sombre Look Into The Past

Salem bills itself as The Witch City, which is unsurprising considering the famous Salem Witch Trials of 1692 and 1693. The trials began after several teenagers and younger girls, including Elizabeth Hubbard, Abigail Williams, and Betty Parris, accused several townspeople of witchcraft. By the time the trials ended, more than two hundred people had been charged, and of those two hundred, thirty were found guilty. Twenty people were killed (including Giles Corey, who refused to enter a plea), and at least five others died in jail.
Although Salem embraces its witch-related history, there has also been concern over whether it should keep the close association or focus more on its other cultural aspects. In recent years, a memorial was set up to remember those who died in the trials. For many years, people believed the victims died at Gallows Hill. In 1921, historian Sidney Perley discovered that the correct location was Proctors Ledge. The town purchased the land as "memorial land" but did not build a memorial, partly because the dark period of Salem's past was a source of shame.
However, in 2017, on the hangings' 325th anniversary, the Salem Witchcraft Museum unveiled a memorial. It is a simple stone semi-circle, with the names of the victims carved into it. The memorial lets Salem acknowledge and preserve its history in a respectful way and gives those interested in the witch trials a focal point to visit and remember.

You can also view the Jonathan Corwin House, which is also known as The Witch House. This house is the only building still standing in Salem, which has direct ties to the witch trials. Judge Corwin was one of those asked to investigate the allegations of sinister activity. The house itself is a fine example of seventeenth-century New England architecture. In the 1940s, it was moved slightly from its original location to its current one and carefully restored to historical accuracy.
Explore The Many Historically Significant Buildings In Salem
With such a long history, it is little wonder that Salem has so many historical buildings to explore. Anyone interested in history will want to stop and see:
Hamilton Hall is an impressive three-story brick building, with the bricks arranged in the Flemish Bond style. Samuel McIntire designed the building in 1805 as a social meeting place for Salem's most prominent families. It was named in honor of the Founding Father Alexander Hamilton. The hall still functions as a meeting place today and is frequently booked for social gatherings.
The Gedney House is an example of a Colonial home, and the oldest part of it was built in 1665. The house was built for shipwright Eleazor Gedney, a member of the Gedney family, who were among Salem's founders. The house is famous for its historical carpentry and how well the oldest parts of it have survived the passage of time. The house is now a museum, and though it is not open to the public, you can arrange private tours.
The House Of The Seven Gables was made famous by Nathaniel Hawthorne's novel of the same name. Construction on the house started in 1668. Hawthorne described the house as if it was a character in the book, with a personality all its own. In 1908 the house was purchased and made into a museum. It was reconstructed to fit what Hawthorne wrote about it in his book, rather than what was historically correct. Today it is a popular museum which also offers educational programs for children.

SERVPRO Helps Salem Residents With Fire Damage Cleanup
In 1914, Salem was afflicted by a blaze that became known as the Great Salem Fire. The fire began with a series of explosions, and by the time it was under control, 20,000 people had lost their homes. The fire caused $15 million worth of damage. Some superstitious residents claimed that the spirit of Giles Corey (who died during the witch trials) had appeared before the fire, which was considered a sign of impending disaster.

Even in the modern world, fire is still a real danger. Thankfully, SERVPRO is here to help with fire damage cleanup. We understand that soot and smoke can leave your home unrecognizable. That is why we aim to clean and restore your home until it looks "Like nothing even happened."
Our technicians take care of every aspect of fire damage cleanup. That includes:
Cleaning away soot damage
Washing linens
Restoring furniture
Overseeing structural damage repair.
We also deodorize your home and leave it fresh.
We can also liaise with your insurance company on your behalf and provide professional evidence of the damage.

If your home suffers fire damage, do not despair. SERVPRO of Salem / Peabody / Marblehead can help. Call us today at (978) 744-4545.