Have a Pipe Burst in Salem?
3/18/2021 (Permalink)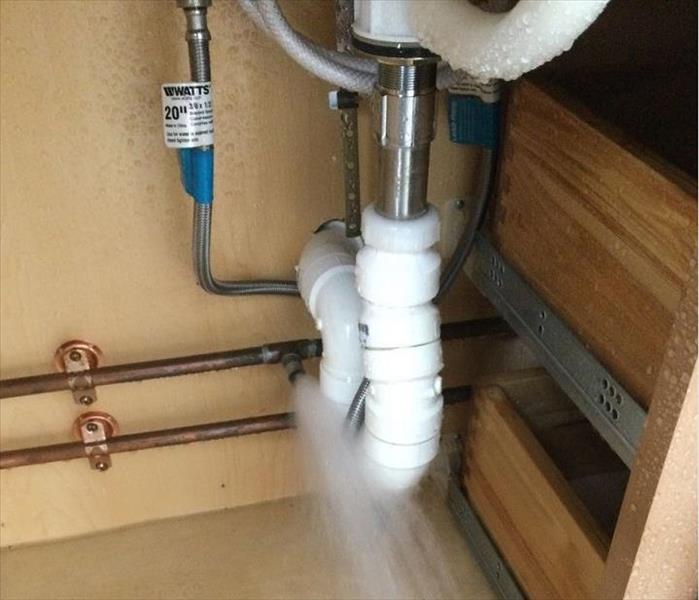 If dried quickly, this water is clean. But if allowed to sit before removing, it can become contaminated.
SERVPRO can Help with Water Restoration in Salem
Salem, MA, is one of the oldest cities in the country, and it has been around since the early 1600s. The town played a vital role in both the Revolutionary War and the War of 1812. The locale is also known for being home to the infamous Salem Witch Trials in 1692, where 19 people were hung for suspicions of practicing witchcraft.
Salem is Home to Several Famous People
With its vast history of being established for nearly 400 years, many people have helped shape the country's history called Salem their home. Some of the most notable locals include the following people:
Roger Conant: He is known as Salem's founder when he settled there with a group of followers after leaving a fishing colony in 1626. The city was first called Naumkeag.
John Endicott: Endicott arrived in the area two years after Conant and brought 50 people with him. In 1629, the town got its name from the Hebrew word for "peace."
Stephen Clarendon Phillips: He was part of a well-known family that became wealthy through maritime trade. After serving in the state government and the United States Congress, Phillips became Salem's mayor in 1838. He also worked with Horace Mann to improve the public school system.
Nathaniel Hawthorne: He has been labeled one of the country's first stellar romantic novelists, and he wrote several books while living in Salem. He once stayed at The House of Seven Gables and then wrote a novel about the estate. He is also known for writing The Scarlet Letter.
Elias "King" Derby: After the Revolutionary War ended, Derby led a movement to expand trading efforts to regions as far away as India and China. He became one of the country's first millionaires, and his famous house and wharf are included in the Salem Maritime National Historic Site.
Samuel McIntire: He was a famous architect and woodcarver who designed the cities famous Hamilton Hall. He also created two other notable homes in the city that are now part of the Peabody Essex Museum.
Thomas Watson: He became famous as being the assistant to Alexander Graham Bell. He was born and raised in Salem, and he helped Bell create the country's first telephone company. Bell also lived in Salem for three years, and he gave the first public telephone demonstration at the city's Lyceum Hall in 1877.
SERVPRO can use a Variety of Professional Products During the Restoration Process
Any time moisture enters your home, there is a possibility that your building materials and contents can get contaminated. Our SERVPRO technicians can utilize products with the following ingredients to prevent contamination from a water intrusion event:
Phenolics: Phenols are acidic and work best at a pH between 6 and 7. Sporicidin is an example of a phenolic, and it works well against a broad spectrum of bacteria, fungi, and viruses.
Chlorines: Vanquish is an example of a chlorine-based product, and it offers low toxicity and has good germicidal properties when fighting bacteria, molds, and viruses.
Quaternary Compounds: These products work best if mixed with other solutions in the 9 to 10 pH range. Microban is both a phenolic and a quaternary compound, and it is a broad-spectrum disinfectant.
If you ever need water restoration conducted after a pipe burst in your house, call SERVPRO of Salem / Peabody / Marblehead at (978) 744-4545.