What Unexpected Issues Lead to Water Damage in Salem Condos?
9/10/2021 (Permalink)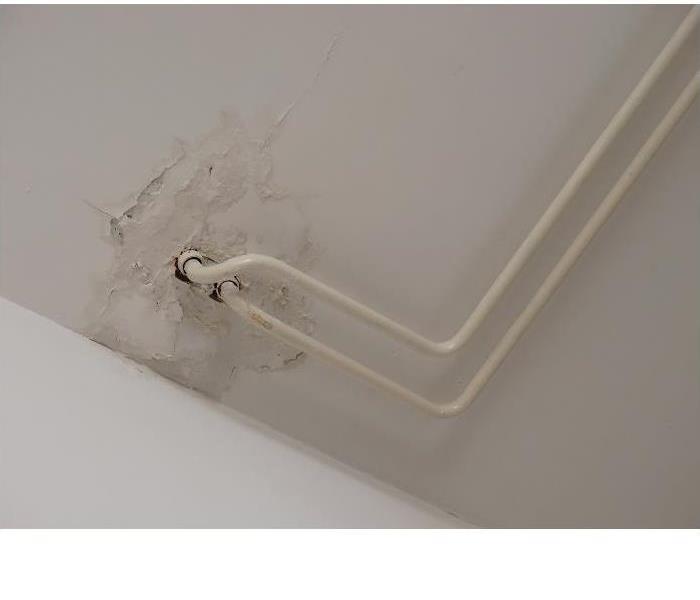 A leak in the condo above can damage your unit. SERVPRO is trained and equipped to locate hidden moisture sources.
SERVPRO Probes Early Signs of Water Leaks to Prevent Costly Water Damage Repairs
Water intrusion in a condo can be extremely inconvenient and costly to address. Apart from the obvious issues such as some owners being away when the water spill happens and thus causing unnecessary damages, other obstacles also precipitate damage in Salem condos.
Water damage incidents in Salem condos can occur regularly because of the numerous plumbing connections that combine to form the single system that serves the entire premises. Sometimes the component that fails may be hidden out of sight, and if there is no sudden water released, the leak can cause severe degradation of materials before discovery. SERVPRO can help locate and address the issue if other signs of water leaks, such as low water pressure, dark spots, or high water bills, are noticed.
Responding to hidden water damage may require various processes, including:
Ceiling repairs from water damages
Water cleanup
Water damage remediation
Identifying hidden water leaks is easier with superior equipment such as thermal cameras, which help trace wetness in concealed areas. Thermo-hygrometers are also helpful in checking for differences in humidity levels in different sections of a building. After pinpointing the problem area, our SERVPRO technicians can perform controlled demolition, removing the deteriorated materials.
Other issues that might lead to water damage include:
Combining emerging technologies with the old ones when repairing the plumbing system
Doing inconclusive water removal
Failure to weatherproof the building
SERVPRO of Salem / Peabody / Marblehead helps manage any aspect of water damage, "Like it never even happened." Call us at (978) 744-4545 for timely assistance