Is Your Salem Home At-Risk for Common Winter Water Damage?
12/20/2021 (Permalink)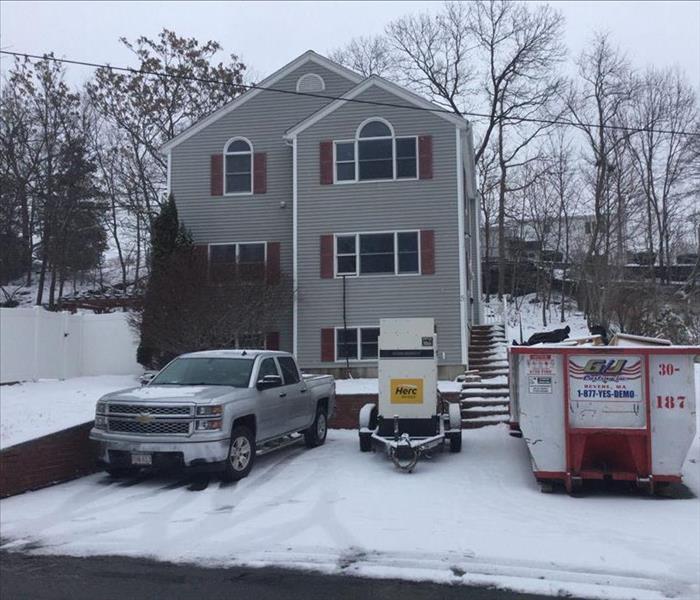 SERVPRO says to winterize your home in Salem to protect against frozen pipes and ice dams. Nor'easters can be fierce.
It is important to understand the ways winter conditions threaten Salem homes
The winter months can introduce several threats and adverse circumstances for your home. Cold snaps and heavy snowfall can each present their unique challenges for homeowners, including the possibilities of costly, destructive disasters. Our SERVPRO professionals understand the urgency of these situations and can help with effective mitigation if preventative measures are not successful.
Are Frozen Pipes Possible?
Between frozen pipes and ice damming Salem homes could experience, water damage can occur from several catalysts. The freezing of the plumbing system creates a rapidly worsening condition that causes a buildup of pressure in aging pipes. Despite the damage that these situations can cause, some preventative measures and efforts can reduce the possibilities of costly pipe bursts. Some of these include:
Running Water – Keeping a small amount of water movement in the pipes makes it harder to freeze and expand. Often, faucets directly connected to sensitive lines should be left running at a trickle during periods of lower temperatures.
Sufficient Insulation – Cold weather can quickly expose insufficiencies in pipes' insulation and plumbing portions. Ensure that susceptible areas have adequate coverage.
Circulating Warmth – It is important to ensure that the household is sufficiently heated during the worst of winter weather. Cold snaps are not the time to push to save on your utility bill.
What is Ice Damming?
Ice damming is another destructive phenomenon that can occur during the winter months. Ice building along the eaves of a roof prevents snowmelt from reaching gutters, and the water instead backs into the attic. While preventative measures like heated cables can reduce the possibilities of this buildup, they can be costly when it occurs.
SERVPRO is Always Here to Help
If pipes do freeze, expand, and rupture, you can count on the fast response of our experienced professionals to help. Likewise, we have trained technicians capable of handling storm damage resulting from ice damming and roof degradation. We can mitigate loss and work to provide a full-service solution to return your home to preloss condition.
Winter weather can be destructive to area homes. Let our SERVPRO of Salem / Peabody / Marblehead make it "Like it never even happened." Call us today at (978) 744-4545.