Eliminating Trapped Water in Wood Flooring of Salem Homes
12/27/2021 (Permalink)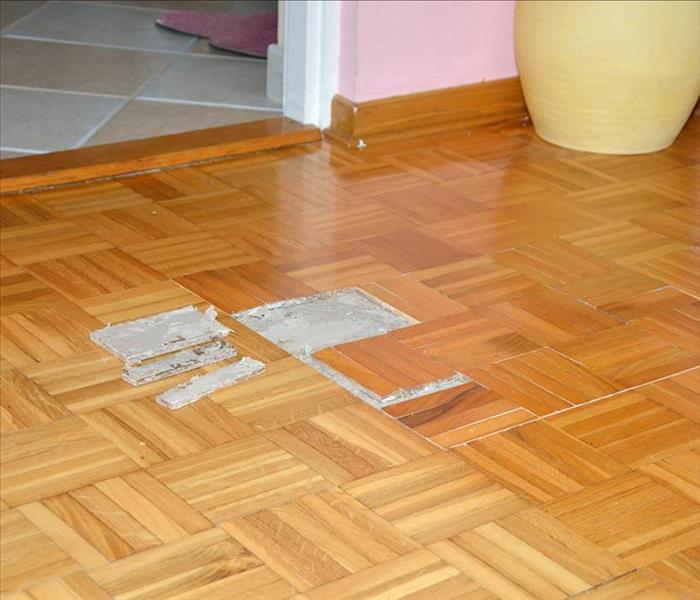 Water lingering on hardwood or parquet flooring can lift resulting in significant water damage. Protect your Salem home and call SERVPRO.
Absorption causes water damage in hardwood flooring
Hardwood and engineered wood flooring is a common construction staple for Salem area homes, especially historic structures. Water penetration into these surfaces can be destructive and costly to repair and restore. Our SERVPRO team works quickly to prevent tear-out and reconstruction when possible.
Clearing Surface Water
One of the initial steps for water restoration in Salem homes is removing surface water. Porous flooring materials like wood planks can rapidly absorb standing water through the cellulose, making extraction crucial to prevent more water from penetrating this finish and becoming trapped in the planks. Our inventory consists of multiple extractors, including pumps and vacuums.
Tracking the Migration of Moisture Pockets

Understanding the movement and presence of water within the flooring is necessary. Specific tools in our inventory help us discover the whereabouts of damp pockets of trapped moisture and what areas become affected next without establishing preventative measures. Some of the devices to help track water migration include:
Infrared cameras on tablets
Thermal hygrometers for environmental moisture
Surface moisture meters
Probing moisture detectors
Special Drying Equipment
Certain instruments and tools available to our team are specifically designed to aid in the removal of trapped water from wood flooring. Using equipment like drying mats, which utilize capillary suction to draw moisture to the surface, we can prevent bound water scenarios that lead to demolition needs.
Avoiding Controlled Demolition
It is always the focus of our responding technicians to prevent removing affected flooring whenever possible. Reconstruction is invasive and costlier, but we have a general contractor license to complete this work when you need it.
Water damage incidents can be destructive to a home, especially wood floor elements and trims. Our SERVPRO of Salem / Peabody / Marblehead team understands the urgency of these situations and can arrive fast with mitigative and restorative solutions. Call today at (978) 744-4545.