Preventing Loss After Water Damage in Salem Homes
2/16/2022 (Permalink)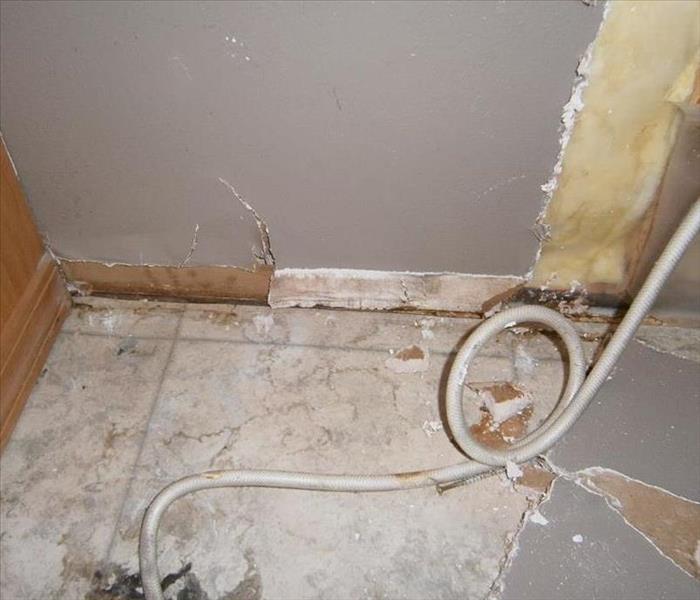 When your appliances leak water call the professionals at your local SERVPRO of Salem / Peabody / Marblehead.
Emergency Services and Water Mitigation Help Protect Salem Homes From Greater Harm
Many mitigation services can help after water loss events. We quickly mobilize to ensure that these actions can get underway as soon as possible, which focuses on the need to protect the property, its contents, and its occupants. Preventing greater harm to the structure involves several steps happening as soon as our team first arrives that makes other practices of the restoration process more efficient, such as:
Drying
Content management
Surface cleaning
Repairing the Damaged Utility
Water mitigation in Salem homes is a necessity during a damage incident. When vulnerabilities exist to the plumbing system or appliances, these conditions must be corrected before cleanup and restoration get underway. We have a general contractor license to help with a variety of construction and repair needs your home might have after a water damage emergency.
Removing Bulk Materials and Debris
Water can be heavily destructive to building materials impacted directly. Heavy saturation of structural elements like drywall and carpeting can destroy these materials quickly. The deterioration of affected components like these is only corrected through actions like controlled demolition that remove ruined materials and debris.
Fast Extraction Solutions
Water removal services and extraction are critical elements of early recovery for water-damaged homes. Extraction is often a combination of pumps and wet vacuums, the choice of which is made based on the severity of the damage, the location of affected materials, and the accessibility of saturated items.

Mitigating water damage can be a large undertaking when our team first arrives at a disaster site. Depending on the severity of the situation, specific actions can be beneficial in the recovery of a home and preventing the problem from getting worse. Our SERVPRO of Salem / Peabody / Marblehead team is ready to help 24/7 at (978) 744-4545.