Call SERVPRO for Flood Damage Repairs After Storms in Salem
4/29/2022 (Permalink)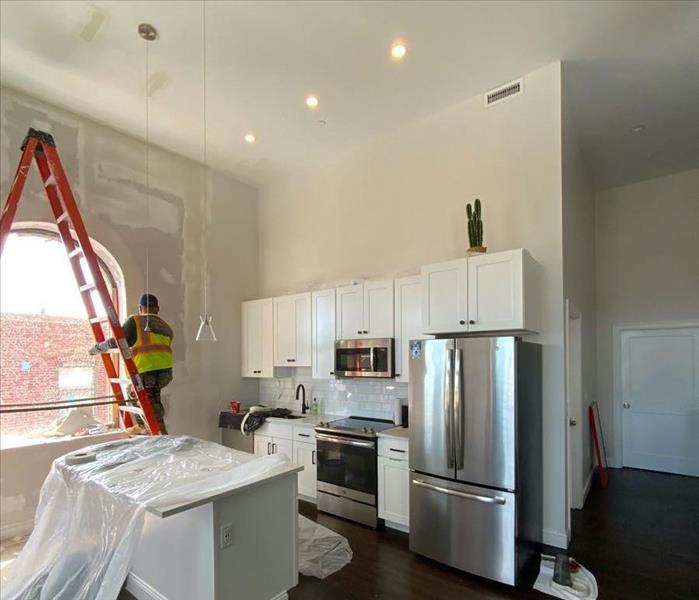 Storm and flood damage repair is a job for SERVPRO. Our technicians are ready at a moment's notice for fast and immediate service for your home.
Need Flood Damage Repairs and Restoration After a Storm in Salem – Call SERVPRO
After a bad storm in Salem, tree limbs are down on your roof, windows are blown out, and your home is flooded with water and debris. In addition, the power is out, and even cell phones are not working. These situations are dangerous to residents. Electrocution, slips and falls, and tree limbs are hazards for everyone. Most people find these situations very overwhelming, and it isn't easy to know where to begin.
SERVPRO provides repair and restoration services to residents of Salem for flood damage to their homes after a storm. We can help with all aspects of the damage done to your home, including providing temporary power to run pumps to clear water, high capacity vacuums to remove water from carpets, high capacity dehumidifiers, and air movers.
Damaged windows are boarded up to prevent additional rain and animals from entering your home. Tarps are also spread over your roof to prevent rain from penetrating through roof punctures. We help manage the immediate needs after a storm. Our priority is to begin cleaning and drying your home to prevent secondary damage caused by high moisture levels that lead to structural issues and significant mold conditions. Mold can cause health effects and further damage your contents. Your contents can be cleaned, dried, and moved to a safe staging area for later return to your home.
Our SERVPRO team can also assist with repair and restoration services in addition to our standard services offered to our clients:
Emergency services water damage repairs
Water clean up, removal, and drying
Repairs to leaking roofs caused by storms
Basement flooding clean up, including debris removal, sanitation, and drying
Call the flood damage, repair, and restoration experts at SERVPRO of Salem / Peabody / Marblehead and nearby areas for storm damage restoration assistance. We can help 24/7. Call (978) 744-4545.